FLASH
CH TULEMIST FIRST LIGHT, UD, MH, OFA5343, CERF3093
(CH RISKY RIVER ROBBY, MH*** x CH ACAMPO GRIZZLY'S STAR, UD, SH)
9/11/95 - 1/19/2005
Flash was the first Chessie to earn a CH, UD, and MH title!
[Flash after earning his first MH ribbon at a hunt test at Lollita, CA]
Flash was a very stylish and talented dog. He was a light deadgrass color and stood 25 inches tall and weighed 80 pounds. Flash was the only West Coast Chessie to attend both the 1999 and 2000 Master National hunt tests. In addition to his bench championship, he has his AKC Master Hunter title and Utility Dog title. Flash is among a select group of 30 Chessies who have earned the CH/MH combination of titles and is the breeds first CH/MH/UD title holder. He is also one of very few dogs to have been invited to both the Master National Hunt Test and the National Obedience Invitational! Flash is an excellent pheasant dog and is one of my favorite hunting companions. Flash had the most remarkable disposition. He was always eager to meet new friends and was the breed's un-official greeter at the Golden Gate Kennel Club's shows at the Cow Palace. Flash passed away January 15, 2005.
Flash after finishing his CDX title at the Reno KC show.
[Flash with his mom, Star, after a good day pheasant hunting near Fairfield, CA]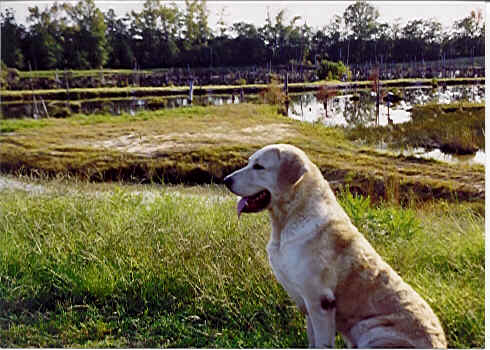 [Flash at the 1999 Master National, Camden, S.C.]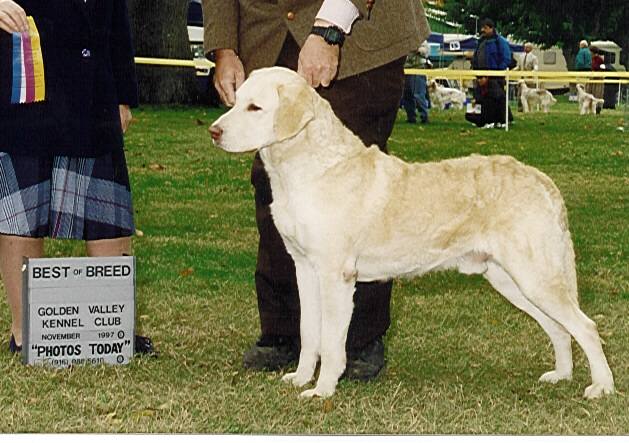 [Flash in one of his Best of Breed pictures]